Dick's Long But Interesting Autobiography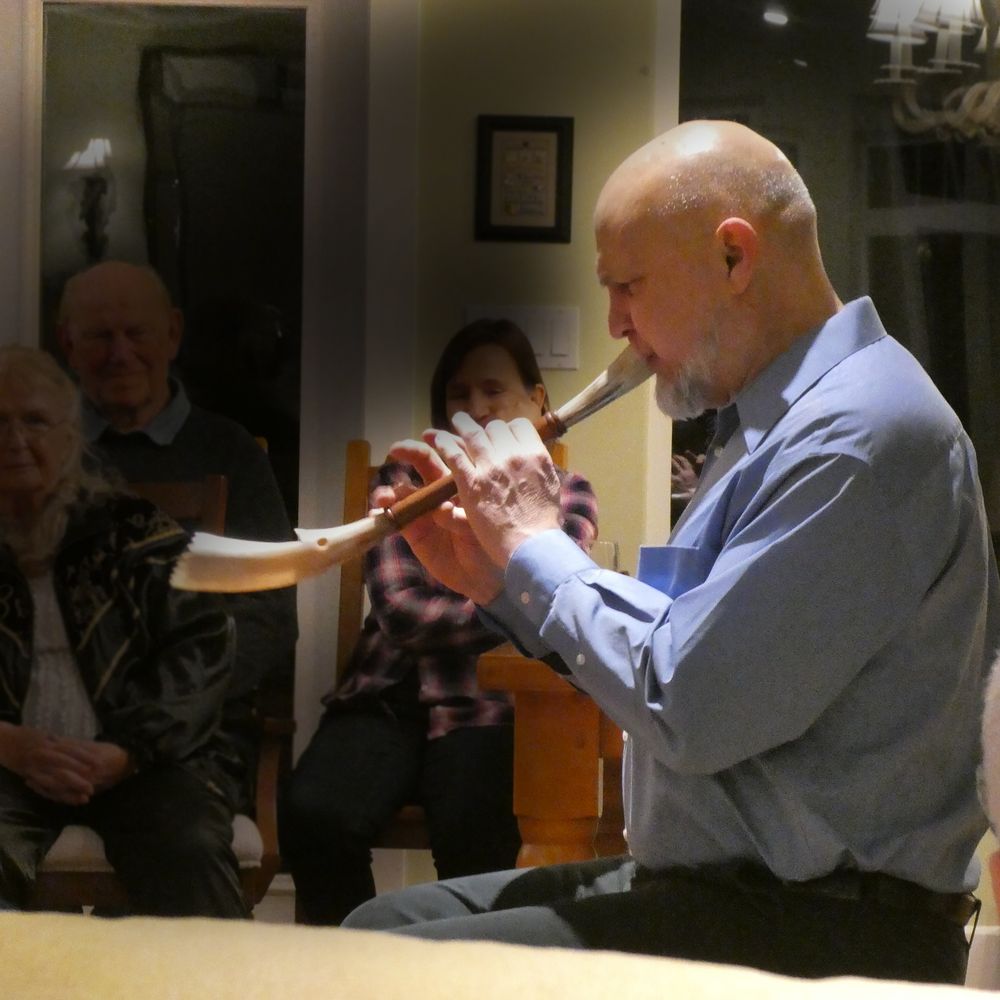 Rather than writing a typical bio, I thought I'd just try and describe my career as if I was explaining myself to you in a coffee shop. The following talks about all my different musical activities and how they relate to each other, but it's organized topically rather than chronologically, so you can look at a heading (below) and sample what interests you.
(If you actually need a shorter, regular sort of promotional bio, click here.)
/dick-hensold-solo-epk• Early music
• Cambodian traditional music
• Northumbrian smallpipes
• Traditional Scottish and Irish music, bands
• Teaching Northumbrian smallpipes workshops
• Other bagpipes, Piping Hot
• Nordic music, the seljefløyte
• Theater work
• Composition
• Church music
• Other unusual instruments
• Playing for Dance
• Publications
• New music, Cross Lane Fair
• 2006 Bush Artist Fellow
• Cape Breton Island
• Solo Concert
Early music: Although I've played a number of musical styles over the years, my first passion was early music. I got a Recorder major from Oberlin Conservatory, and worked with the Chicago Early Music Consort for a few years before I moved to Minnesota in 1984. There I played with the Lyra Concert baroque orchestra, performing about 15 different recorder concertos. I also played with Ex Machina, Circle of Sound, and did a few ad hoc programs on the St. Paul Early Music Series, the two most memorable of which were a program of lute and recorder music with lutenist Dirk Freymuth, and a baroque hurdy-gurdy program with masters of the 18th-century French hurdy-gurdy Claude Tailhades and Bob Green.
Cambodian traditional music: I met Cambodian master musician Bun Loeung in 1986, and was awestruck by his musicianship and virtuosity on the khim, or Cambodian hammered dulcimer. I hired him to teach me a few tunes and play with me on a concert I was giving at the Coffeehouse Extemporé.  He spoke almost no English at the time, but I learned by taping him, taking the tapes home for transcription, and playing the transcriptions back to him for correction and comment.  He would sing for me the interpretation he preferred, and we made good enough progress that he offered to teach me as many tunes as I liked.  I got an idea for a group that mixed Cambodian music, Western folk music, early music, and jazz, and we formed the New International Trio with harpsichordist Barbara Weiss later that year.  Loeung's English improved rapidly once we started weekly rehearsals without a translator!  The New International Trio released a CD in 1987 on Atomic Theory records. (The company was owned by blues/rock pianist Willie Murphy, who also produced our recording.  So the Trio's first recording was produced by the same person that produced Bonnie Raitt's first recording. Not much comparison beyond that, though.)  Our CD received favorable reviews from Folk Roots and Option magazines and Peter Spencer's book World Beat, and has had airplay across the U.S.
At the same time that the New International Trio was playing for Western audiences at Universities, on small concert series, and at folk music venues (and once on a program with the Minnesota Orchestra), another group comprised of some of the same musicians was playing strictly traditional Cambodian music at gigs for Cambodian audiences: weddings, Buddhist ceremonies, house parties, dances, etc.  This group was called Rak Smey Khemera (Light From Heaven Falls on the Cambodian People, or Light from Heaven for short), and it recorded a CD. This CD won the Just Plain Folks Best Ethnic/ World CD in 2002.  More recently, Light from Heaven had been playing college programs for ethnomusicology departments.  Unfortunately, my 21-year collaboration with Bun Loeung ended on May 24, 2007, when he passed away at the age of 78.  I really miss him and his incredible musicianship!
Northumbrian smallpipes: I have played Northumbrian smallpipes since 1985. I am frequently asked how I came to play such an unusual instrument.  The long story is: (caution: musicological terminology ahead) When I was at Oberlin, I studied both 16th and 18th-century counterpoint, and while doing so, was exposed to both cantus firmus counterpoint and counterpoint over a pedal point, typical of Bach's organ works.  Both of these combine long held notes (much like a bagpipe drone) with moving harmony and counterpoint, an effect I found particularly beautiful.  Ever since then I wanted a bagpipe for which I could write and arrange ensemble music which would combine melody, harmony, and counterpoint with drones.  So I needed an instrument that was musically versatile, had a wide range, had a tone quality suitable for blending with other instruments, and which played at a volume that would balance with other acoustic instruments.  After a search that took almost a year, I determined that the Northumbrian smallpipes was the best bagpipe for this purpose.  The writing and arranging I do for the bands I play in is a direct outgrowth of this interest, but what started out as a purely creative impulse has since turned into a life's work.  The Northumbrian smallpipes now form the core of most of my musical activities.
Traditional Scottish and Irish music, bands: I started using my pipes for Cambodian music in the New International Trio soon after I got them, but I also had a keen interest in traditional music of Scotland, Ireland, and Northumberland.  Because pipes are primarily a solo instrument, I've always had plenty of opportunities to play traditional music solo at weddings, funerals, and whatever else (and still do this, by the way), but my primary interest was in using the pipes in groups with other instruments.  I was invited to join a band based in Northern Wisconsin, Way Up North, and played with them from 1993-7 (we released a CD in 1995).  Two members of Way Up North went on to form Piper's Crow, a quartet which features Northumbrian smallpipes and several other bagpipes, in 1998. In this group I have had the most fun realizing my interest in composing and arranging for pipes in an ensemble setting.  Piper's Crow released a CD in 2006, and has been fairly busy ever since.  Along the way I've also played in several duos, with singer/guitarist Jeff Cahill, fiddler/accordionist Dick Rees, singer/guitarist Tom Draughon (of Way Up North), guitarist Karen Mueller (of Piper's Crow), and piper Laura MacKenzie (also of Piper's Crow).
Teaching: I learned Northumbrian smallpipes mostly in isolation, although when I had been playing for about a year I had two intensive days of study with Alistair Anderson. He's a piper and concertina player from Northumberland, who was then touring Minnesota. Because of my isolation, I relied heavily on ergonomic principles that I had learned in music school, and this really influenced my later approach to teaching. I have been teaching weekend seminars and courses on the Northumbrian smallpipes since 1997 in Vancouver and Victoria, British Columbia; Portland, Oregon; San Francisco, California; Tacoma, Washington; at The Piper's Gathering in North Hero and Killington, Vermont; Minneapolis, Minnesota; and Oxford and Northumberland, England.  I have also taught at Celtfest in Nanaimo, British Columbia, a five-day residential course which I really recommend.  I really enjoy teaching, and people often tell me that they appreciate my approach (and if they don't like it, maybe they don't tell me!).  For examples of my teaching materials, see here.
Horsing around in borrowed kilts at Celtfest 2004 with uillean piper Martin Nolan. Photo by Rob Moore.
Other bagpipes: I've also been interested in other bagpipes since taking up the Northumbrian pipes, and one of the first was the Swedish säckpipa. The säckpipa is the evolutionary opposite of the Northumbrian smallpipes, the Northumbrians being a highly developed, versatile instrument that requires incredible craftsmanship in its construction, and the säckpipa being a very simple instrument that you can make out of materials at hand with a pocket knife and an iron rod. The säckpipa's sound is wild, matching its primitive construction, but it's also very difficult to get in tune! So its use, like its range, is somewhat limited.
In the early 90's I helped organize a couple of concerts that featured a variety of bagpipes, mostly played by regional players.  "Piping Hot", which was sponsored and co-produced by the Schubert Club, featured pipes from Northumberland, Scotland, Ireland, 18th-century France, Spain, Sweden, Italy, Macedonia, and Bulgaria. About the same time I got a reproduction of a medieval greatpipe made by my friend Julian Goodacre of Peebles, Scotland.  It was the first instrument I ever owned that was never too quiet!  Someday I may even play some medieval music on it.  We took advantage of one of Julian's regular visits to Minnesota to add some of Julian's English pipes to "Piping Hot II".  I have since added a set of Montgomery smallpipes (a copy of a set of 18th-century smallpipes in a museum in Edinburgh), also made by Julian, and which I use for concerts of early Scottish music.  I have also taken up the Scottish Highland pipes and reel pipes, so I now have a whole collection of bagpipes requiring earplugs!
Nordic music:  I was introduced to the säckpipa in 1986 by a long-time associate, Dick Rees (who formerly played with the Prairie Home Companion's Powdermilk Biscuit Band), who performed with me in a duo called Richard II (because his name was Richard, and mine was Richard, too).  Dick had made many trips to Norway, Sweden and Denmark studying Scandinavian music, and he was an excellent resource for tunes and style.  Scandinavian and Finnish music (collectively referred to as Nordic) is played to a high standard in Minnesota, with many Minnesotans studying abroad and many Nordic musicians living and visiting here.  I've done a number of projects involving Nordic music, and though I'm certainly not an expert at it, it hasn't been for lack of good exposure!  In addition to the säckpipa, this music uses recorder and another instrument I have a lot of fun with: the seljefløyte, or Norwegian willow-flute.  This is basically a penny-whistle without any fingerholes, which only plays notes in the natural harmonic series.  Instruments like this have been found in archeological digs all over the world, but I think that Norway is the only place that a traditional repertoire survives.  It's another limited instrument, but one with a really cool sound, and not so unpredictable in performance as the säckpipa!
Theater: I have worked on a number of theater projects over the years.  These shows generally use my background in traditional music to achieve a certain color or authenticity, but my understanding of arranging for traditional folk instruments in combination with conventional Western instruments also has come in very handy. In addition to performing, I have been arranger and occasionally music director on some of these shows, which have been at the Children's Theater Company, The Guthrie, Theatre de la Juene Lune, and others.  One project, Ruth MacKenzie's Kalevala, released a CD on Omnium Records in 1998. This project bears special mention because, besides the fact that I was arranger and, in the first year it was staged, music director, it was so much fun!  The singers were fabulous, the band was incredible (unlike anything I had ever been in before) the dancers were awe-inspiring, the esprit-de-corps was terrific, the piece was extraordinary, the stage direction was great, and the audiences were maniacs!  Both the 1997 run at the Southern Theater and the 1998 revival at the Guthrie Lab sold out less than 24 hours after opening night.  Every house was SRO, and every audience gave a standing ovation of at least 5 minutes, usually longer.  Another more recent project that I'd like to mention is Nature, an outdoor walking-play dramatizing the relationshiop between Henry Thoreau and Ralph Waldo Emerson. It was produced by TigerLion Arts and staged at the MN Landscape Arboretum in late summer 2010, and it was my first theater production as composer (I was also instrumentalist and music director). Also a very fun piece, and never mind the thousands of mosquito bites!
Composition: I've always written music, but I didn't get really methodical about it until 1996, when I decided I would write a tune a day for 100 consecutive days.  I used a similar discipline to that used by writers, writing at the same time every day, accepting whatever came into my head, sometimes giving myself assignments, sometimes not.  I still use tunes generated with this project.  Since this experience, I haven't had any trouble sitting down and writing a tune on demand.  A more recent discipline has been to keep music paper with me at all times and write down any theme that comes to mind.  The result of this is that a lot more tunes come to mind.  My next project is to experiment with techniques to improve the quality of my output.  And I'm talking mainly about melodies here; I've never had any particular trouble arranging.
In addition to the writing I do for my bands, I also have written 14 pieces on commission for Northumbrian smallpipes, flute, and strings for weekend Northumbrian smallpipes courses in Northumberland, England.  These workshops took place in Hartburn (think "Deer Creek") Northumberland, a small farming town and home to Lance Robson, who has a deep interest in developing the Northumbrian smallpipes by encouraging new and different types of pieces to be written for them. Hartburn Hornpipe was written for one of these workshops, and Zoë Cansdale of Hartburn and Lance Robson's Jig were both commissioned by Lance's daughter Sue.
Church music: Since 2002 I have been composer-in-residence at Pilgrim Lutheran Church in St Paul, providing music for a Celtic contemplative service.  The texts I set to music are adaptations from the 7th-century early Celtic Christian church, or ones from the traditional Hebridean Carmina Gadelica.  This service is partly based on French Taizé services (with occasional Buddhist touches), and partly on Lutheran services, but I have tried to create for them a traditional Scottish musical style.  The musical ensemble for this service is myself on Northumbrian pipes, recorder and low whistle, Michelle Kinney on cello, and (usually) Marc Anderson on percussion.  It's pretty fun playing with this group—the prelude to the service is (and has been for the last 10 years) "free improvisation in e minor". We are usually joined by cantor Peggy Larson, and since the personnel stays the same, we have developed a pretty refined communication in this improv. The service has been well-received, and after 10 years we are still doing it.
I've picked up some other unusual instruments along the way to complement the ones I usually use, or to get some special stylistic effect.  These include beyaw, a double-reed instrument used chiefly for traditional Cambodian weddings.  This has a vibration panel near the top that makes it buzz like a kazoo.  I also use my low whistle quite a bit.  It's nice—it sounds like a cross between a flute and a whistle and defines the mellowest end of my instrument collection.  I also play other whistles and some Renaissance wind instruments.
Playing for Dance: I have occasionally played for English country dancing for the last few years, a project that interests me for several reasons. I have always wanted a venue to work on period improvisation for 17th and 18th-century music, and playing for dances is ideal for this. Also, there is evidence that these old tunes were accompanied by bass parts, most of which are no longer extant, and I enjoy reconstructing bass parts in the 18th-century style. I play these dances with a continuo section consisting of a harpsichordist (Jane Lanctot, also from the Cambodian group) and cellist (Michelle Kinney, also from the Pilgrim Lutheran Church Celtic ensemble), so our performances sound very baroque. The project is also very satisfying because it combines my early music background with my interest in traditional dance music.
I have also begun playing for contra dances again, after a 23-year hiatus. I play them on my Northumbrian smallpipes, reel pipes, recorder and low whistle, as a duo with pianist/guitarist/accordionist Bob Walser. We play dances at Tapestry Folkdance Center in Minneapolis. And recently I have been playing Highland pipes for Scottish country dancing, for performances with the Twin Cities chapter of the Royal Scottish Country Dance Society. Playing for dance with no rhythm backup is much more challenging than playing with a band, or even a duo, and this group require their pipers to play solo. This is a great opportunity to practice getting a decent dance lift all alone, and I like the music.
Publications: I have also done a little writing and research.  In order to encourage Northumbrian piping in North America, I revived and edited the newsletter The Northumbrian Smallpipes Society of North America for 3 years before turning it over to piper Ian Lawther.  Most of my research and articles have centered around the Dixon manuscript.  This music collection was compiled in the 1730's by William Dixon, and rediscovered in 1995 by publisher and piper Matt Seattle, who published it as The Master Piper - Nine Notes that Shook the World. Matt is a friend of mine, and knowing of my 18th-century music interests, sent me a copy as soon as he had entered the manuscript into his computer.  Nothing is known about Dixon, but his manuscript provides a missing link in the history of piping in the Northumbrian and Scottish Borders, as well as being the oldest-known British bagpipe music collection.  It was exciting to be privileged to work on this when it was first discovered, and to bring to life music that has lain dormant for over 260 years. Of the three articles I have written on the Dixon manuscript, two are published in Northumbrian Pipers' Society Magazine (Northumberland, 1998 and 1999), and one in Common Stock, The Journal of the Lowland and Border Piper's Society (Essex, Dec. 1998). These three have been collected in a book entirely devoted to the Dixon manuscript (Out Of The Flames - The Lowland and Border Pipers' Society, 2004).
New music, Cross Lane Fair:  Because I play unusual instruments and have classical music training, I have, throughout my career, been asked to play new music gigs, usually about one per year.  These are always really fun, because the music is a change from what I usually do, and I love working with the composers—it's a real collaboration.  My previous work with Ruth MacKenzie is a good example of this, but I've also had memorable experiences working with Mary Ellen Childs, Carl Witt, David Lesniaski and others.
There is one orchestral piece ("Cross Lane Fair") by Peter Maxwell Davies that has a heinous Northumbrian smallpipes part.  Sir Peter's manager in London wanted a player based in North America who could do it, and they sent me the part several years ago when demand for performances of the piece started to heat up.  It was so hard, I didn't bother to learn it until the Greenville (South Carolina) Symphony Orchestra called me and hired me to perform it in May 2006.  The piece calls for several different kinds of extended techniques (for instance, I had to make a special chanter reed to get the overblown notes in tune) and it was quite a challenge.
2006 Bush Artist Fellow:  In 2006 I received the highest honor awarded to independent artists in the upper Midwest region, the Bush Artist Fellowship, in the Traditional and Folk Arts category. (The fellowship is from the [Archibald] Bush Foundation in St Paul, no relation to America's presidential dynasty.)  I used the grant for study and research, and for travel to Scotland, England, and Cape Breton Island, Nova Scotia. And also buying more bagpipes!
Speaking of which, the traditional music of Cape Breton Island deserves special mention here. Cape Breton fiddle tunes are really fun to play on Northumbrian smallpipes, since their style is inherently crisp and rhythmic, with similarities to the Northumbrian staccato style.  My interest in the music of Cape Breton Island goes back 10 years or more, but I was not able to get any feedback on whether my Cape-Breton-fiddle-tunes-on-Northumbrian-smallpipes concept was working until recently.  At Celtfest 2005 (in British Columbia), I met Troy and Kendra MacGillivray from Antigonish, Nova Scotia, and was inspired both by their deep, effortless, and spirited virtuosity, and their comments and encouragement.  Troy recorded one of my compositions later that year on his solo album Eleven, and agreed to play piano the following year on mine. I also had an opportunity to study with violinist David Greenberg and Highland piper John MacLean in Halifax (2005-present), and these sessions completely altered my rhythmic approach to playing, especially on reels.  Continuing work on refining this style is my current practice obsession!  And may there be many more...
Dick with Laura MacKenzie playing a wedding in Lutsen, MN.
Photo by Norah Rendell.
Solo concert:  The last couple of years I have concentrated on touring a solo concert program around the country (Northeast, Southeast, Southwest, Northwest, Midwest, and I'm still developing new routes). On this program, I play Northumbrian smallpipes, reel pipes, seljefløyte, Swedish bagpipes, pibgorn, low whistle and recorder. I was inspired to create a program that reflected my artistic diversity, but illuminated the common ground between the different music traditions. I play in several traditional and historical styles, emphasizing Cape Breton, early Scottish, traditional Scottish and Northumbrian, but I also include some Scandinavian, medieval, and original music.