"

What I love about Dick and Patsy's duo is that their music deeply satisfies both the die-hard lover of traditional music, and those with little experience of this kind of music. Virtuosity, wit, and great stage chemistry will do that."
— Kevin Carr -(Wake The Dead)
Dick Hensold & Patsy O'Brien EPK
Music born from the age-old traditions of Ireland, Scotland, England and Cape Breton is given new life in the hands of two of its master musicians. 

Piper Dick Hensold and guitarist and singer Patsy O'Brien deliver an astonishing evening of songs, tunes and stories that have stood the test of time, and leave both the serious music lover and casual listener wanting more. 
Ancient music that has carried its message across centuries, across oceans wide and into the hearts and minds of countless generations now comes to you.
As well as a broad range of styles of Celtic music, Dick & Patsy's music features an impressive range of expression, from the jaunty and humorous to soulful, led by Patsy's warm and multi-colored baritone voice,  Dick's variety of pipes and whistles, and the nimble instrumental virtuosity of both musicians.
Dick Hensold, Northumbrian smallpipes, Scottish reel pipes, whistles and recorder. The leading Northumbrian smallpiper in North America, for the past 25 years Dick Hensold has performed and taught in England, Scotland, Japan, Canada, and across the United States. He is an active composer, writing both music in the traditional Celtic idiom, and in more elaborately-scored pieces. This repertoire is featured on his solo CD, Big Music for Northumbrian Smallpipes, released in 2007. He is also a studio musician and theater musician, and is a 2006 Bush Artist Fellow. 
"A master piper with an exquisite touch"  — City Pages 
"The piping is fluent and assured… his technique is impressive… delightfully interpreted" — FolkWorld CD Reviews 
"North America's foremost smallpiper" –fRoots
Patsy O'Brien, vocals, guitar. As well as supplying the driving guitar rhythms of Celtic/World Music diva Eileen Ivers' last European tour, and collaborating with many giants of the Celtic/World music scene (Paddy Keenan, Cathie Ryan among them), award-winning artist Patsy O'Brien hosts guitar workshops all over the country, and NPR saw fit to feature one of his song arrangements on the prestigious All Songs Considered. With 4 critically-acclaimed solo albums under his belt, along with numerous live and studio collaborations, Patsy's songwriting reflects his penchant for seamless genre-hopping, and a strong interest in roots Americana as well as jazz. Veteran Irish music critic Paul Dromey declared Patsy "Ireland's best-kept musical secret", after attending his opening performance for Kinky Friedman some years back. 
"Provocative, genre-defying excellence." FreeWorld
Press Photos & Posters:  To download, click on pic, then right-click and choose "Save Image"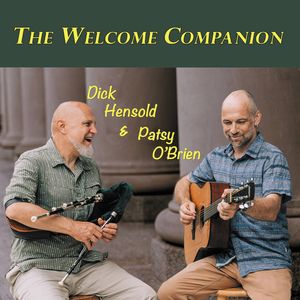 Inquire about booking us!